Take your brand marketing to the next level through creative event entertainment
Brand Marketing
that works! Stay front of mind in this fast paced and competitive market.
Marketing your brand at corporate events is the ticket to giving your audience a real life experience.
You have the opportunity to build valuable connections and life-long memories through emotion. Influence your target audience by showing them exactly what to feel when associating with your brand.
Founder & Creative Director of Create Agency, Samantha Fernandes, uses her creative knowledge to consult with companies all around New Zealand providing them with experiential event entertainment, decor and pre-event advertising that truly encapsulate the essence of their brand. 
Taking event entertainment to the next level and by creating meaningful experiences; You want your guests to stretch their arms, angle that light and take a perfect selfie at your event. They get to show the world what a glamourous life they lead and you get free advertising! Take the risk, be bold, create magic!
Brand Marketing that works, to stay front of mind in this face paced and competitive market requires something out of the ordinary.
It all started back in 2016 where we approached by The Human Agency to create something unique for their client Kenwood. Following their brief and combining Fashion Design, Food, Building, Floristry, Body Art & Makeup Artistry into a complete package, we created an unforgettable experience guests could interact with. This project drew on expertise from our large network of artists, specializing in a variety of disciplines and combined them into something never been done before. Our Interactive Art Installations for The Cuisine Good Food Awards was a project we found challenging yet extremely rewarding and opened the doors to brand marketing.
From concept through to completion, our team had the pleasure of working with The Human Agency on this brief. We were heavily involved in the design and creative process to the client as well as the Fairfax Media Events team. These exhibits were to be sponsored by Kenwood so we also had to come up with creative ways to incorporate their branding into our design. 
Food Meets Fashion: The Brief 
For:  Cuisine Good Food Awards – by Cuisine Magazine so the audience is a highly discerning audience of  top chefs and foodies in NZ. Emphasis on quality and superb food. Lots of media/photographers present.
Where:  Auckland Museum Atrium
Theme for Event:  Celebrating the best of NZ Food: – 'Let food be the hero' with decor reflecting a truly native Kiwi experience – i.e. table settings are moss, ferns, rocks, natural wooden tables .
Model 1:
Live static model presented as a museum exhibit on a raised podium
Reflect  "Where Food Meets Fashion" tie in with our NZ Food theme. Incorporate interactive canapé – savoury macaroons on long wooden skewer. Model to sit on a stool covered by / stand in skirt on a raised white podium.
Model 2:
A roaming model/waitress wearing a circular serving tray from which she will serve canapés directly off her tray
Idea: Roaming tray
Headpiece/Hair: Up and wearing Kenwood blade as headpiece
Bodice: Made from wrapped leaves or flax
Tray: Fits around body- scatted with moss, ferns, framed with vines hanging from tray.
Canapés to be served on trays – these will be refreshed by catering as they run out.
Smoked eel, white callebaut chocolate tuile

Orange beetroot, whipped gorgonzola, hazelnut and crystallized vinegar

Ōra King Salmon on blini and ouzo gel
Kenwood: Both these exhibits are sponsored by Kenwood and incorporate branding and/or product into both models in a subtle/clever way.
The brief inlcuded using Kenwood's colours, company culture and was targeted to their demographic and target audience; attendees at the Cuisine GoodFood Awards. We submitted unique entertainment ideas; living tables that were interactive with guests to capture their audience that proved time and time again to be a flawless addition to any any event.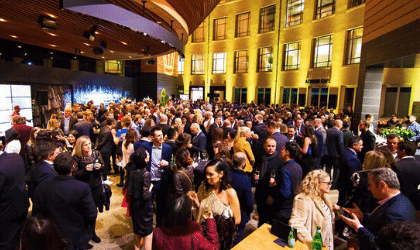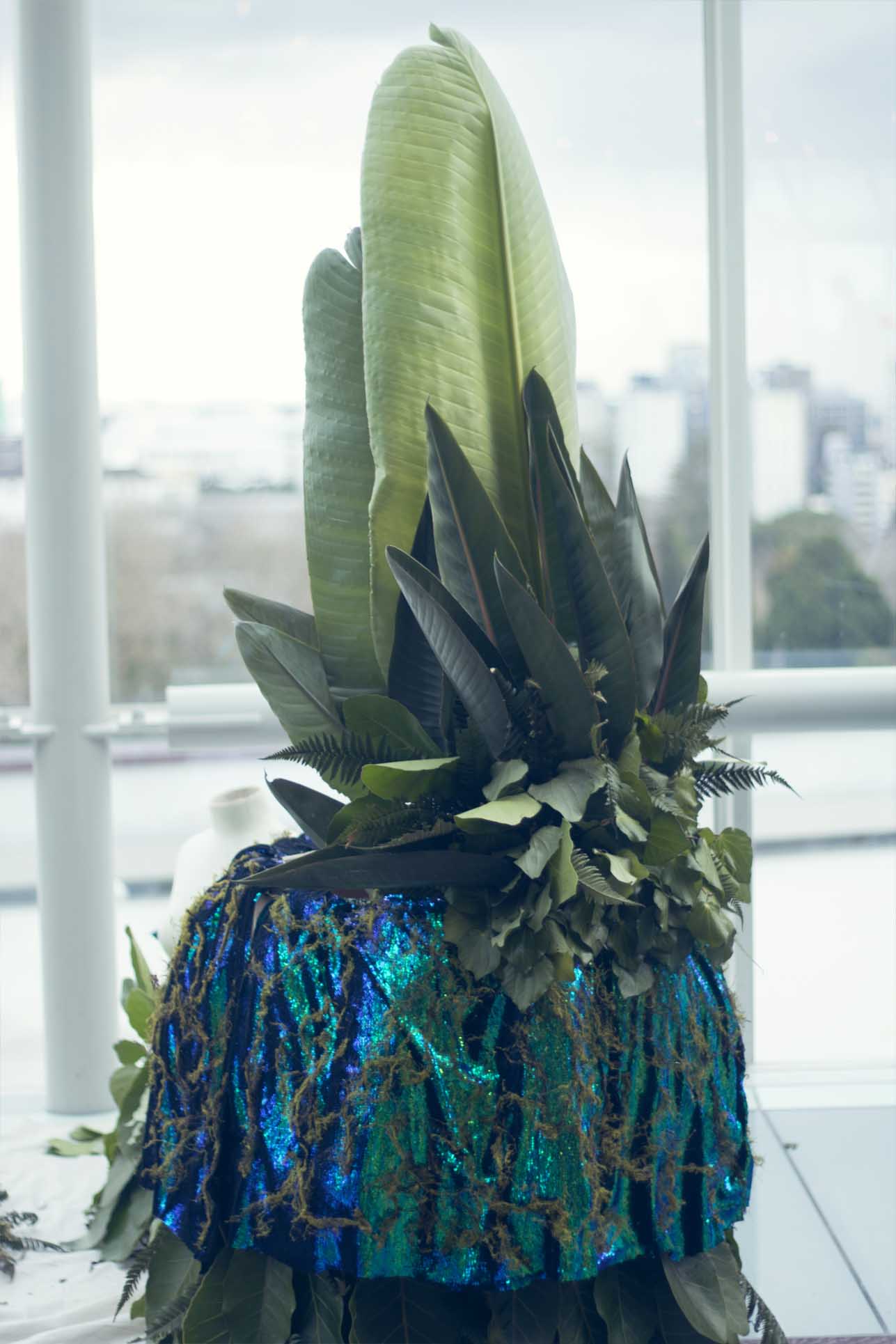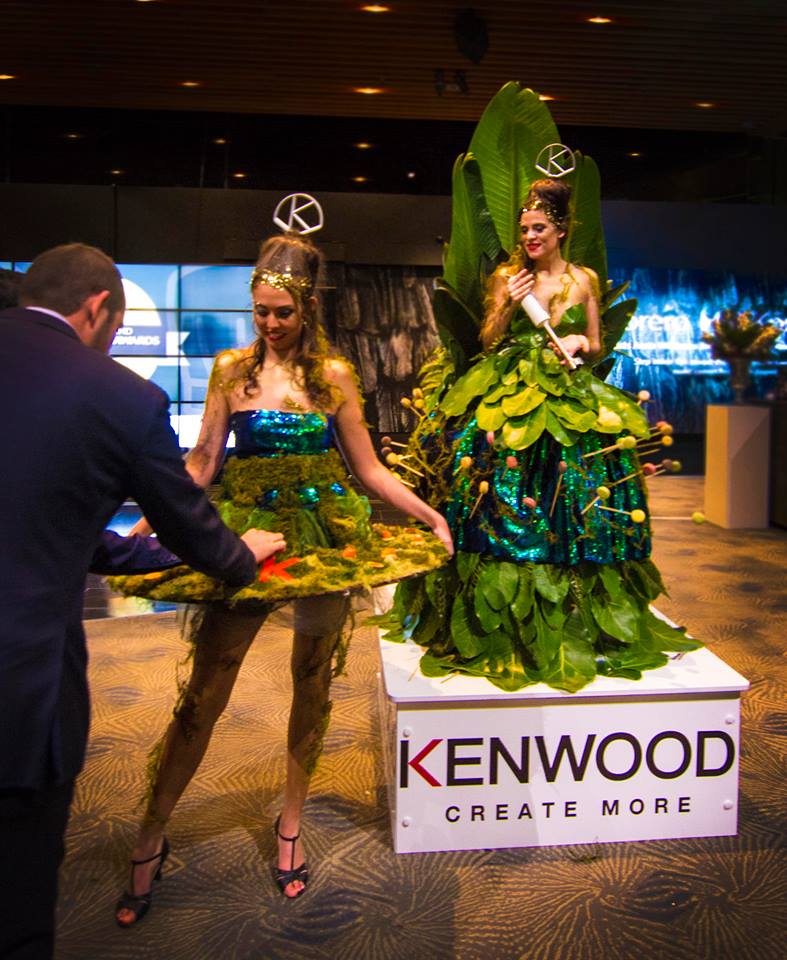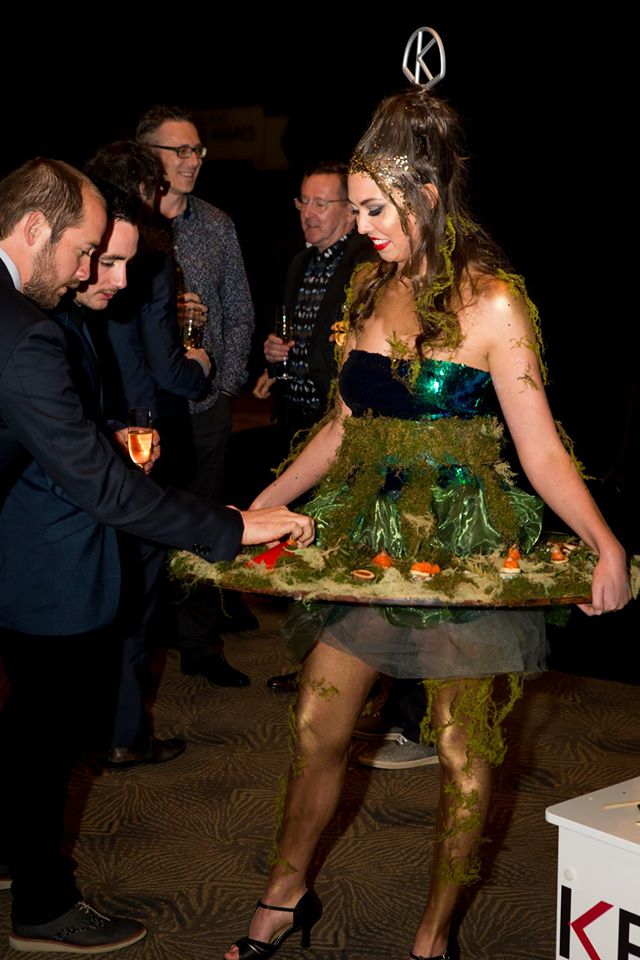 In this fast paced and competitive world of marketing, it is becoming apparent that capturing your audience through marketing isn't just about putting your brand in front of as many faces as possible. The human brain often doesn't retain information until there is significant feeling or emotion to hold the memory in place. By consulting with our team to create an unforgettable experience through creative event entertainment, you truly capture and retain your audience for life long connections.
If you would like to consult with our team about unique options for your upcoming event, let us know by enquiring today with as much information as possible and we be in touch with a beautiful customized proposal.
We look forward to making your next event UNFORGETTABLE