Halloween Office Party
10 Face Painting Ideas To Try This October
Now that October is finally here, the smell of crisp leaves and pumpkin spice lattes fills the air. One cannot enter a corner store without encountering pumpkins, bags of candy corn, a black cat and witch trinkets.
Halloween is just weeks away, what better way to engage the whole office than by celebrating everyone's favourite costume and candy-filled holiday? Halloween Office Party!!
Hosting a Halloween office party for your fellow employees and their families can be an exciting way to show your appreciation, keep morale high and promote work-life balance.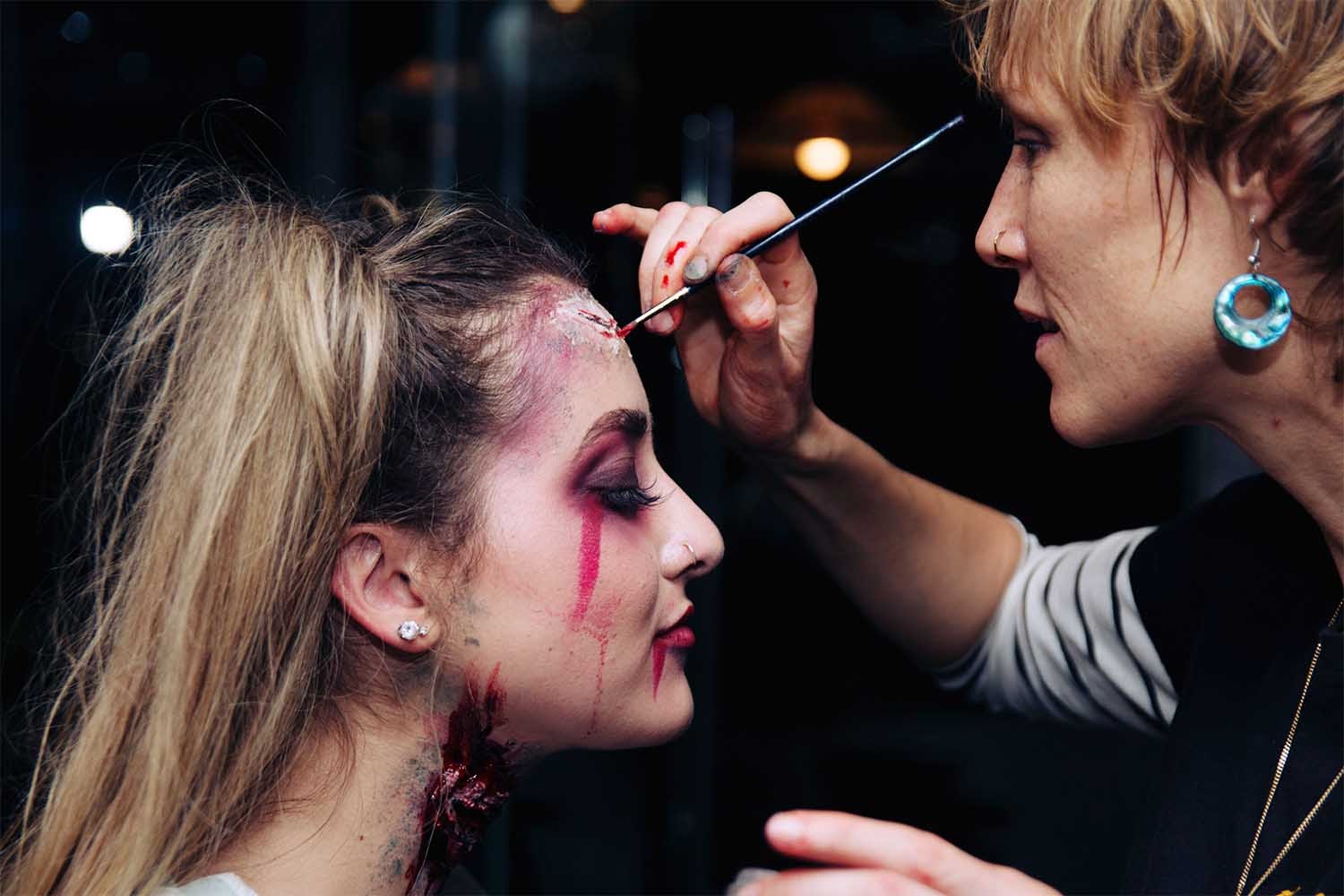 It's all-inclusive. Anyone can participate, but there's no pressure to participate.

It's a nice break from the day. Employees work really hard, so being able to take an hour break for a costume contest and lunch brought in or if it's at the end of the day, drinks are an appreciated break from the daily grind. 

It's fun. People really try to out-do each other for creativity. Some go with traditional outfits like pirates, cowboys, sports figures, while others try to come up with something relevant to the company or the latest trends.

Since most companies have such a diverse group of people, Halloween is a holiday that everyone can celebrate together, making it an important one for employee engagement and morale.
Read on for some tips for a dead easy Halloween office party celebration that can help ensure the party is a real treat. Here are four tips for ensuring everything runs smoothly and safely this Halloween season.
1. Include the Entire Family
Halloween is a favourite pastime for kids, so it makes sense to commemorate this spooky holiday by including employees' children in the festivities! It's a good idea to hold your Halloween office party over a weekend so family members can join in on the fun. When sending out invites, make it clear that all are invited to attend.
2. Add a Costume Day to the Calendar
Depending on your industry and office atmosphere, you can set aside a Halloween costume day to give employees something to look forward to. Better yet, consider creating a costume contest and encouraging your colleagues to vote on the spookiest, funniest and most creative ones.
To drum up excitement, offer prizes like gift certificates, work-from-home days, or paid time off. Just remember, when it comes to dressing up at work, sensitivity, culture and industry matter.
3. Offer Fun Halloween Games
Whether the Halloween games you offer are for employees only or the entire family, choose festive activities that create lasting memories.
Halloween-themed games include creepy Halloween feels boxes, pin the smile on the pumpkin, a "how many candies" guessing game, pumpkin hunts, Halloween bingo, scavenger hunts.
Including entire families especially kids in office Halloween festivities is an excellent way for employees to have fun, maintain work-life balance and bond with colleagues.
An enjoyable, pleasant working environment improves job satisfaction and decreases turnover. So make this year's Halloween celebration the best one yet! 
4. Throw a stress-free make-up party.
If you don't want to shell out for an elaborate costume this Halloween, you can still have a winning look. In fact, these Halloween makeup ideas just might give you the coolest look in town.
Book some of our professional makeup artists to your office and let them work their magic with staff before cranking out the tunes and breaking out the booze. Normally our clients know the designs they'd like their face painted. However, sometimes we have to help them decide.
Whether you're going for fright or delight, we've got you covered with ideas that include everything from zombies and deer to Marie Antoinette.
Sure, zombies and witches are always popular face painting and costume ideas at Halloween. But what if you're wanting something a little bit different?
Here are 10 of our favourite unique Halloween makeup ideas you could try this October.  Happy painting!
1. Pennywise
Considering regular clowns are enough to scare a lot of people, this extra-scary pennywise clown makeup might actually make a few people run away, faint, or scream.
2. The Wooden Doll
If you're looking for a unique Halloween costume, try transforming yourself into a wooden doll. This Halloween makeup look features large eyes, heart-shaped lips and perfect skin, which you can easily recreate with everyday makeup products.
3. Maleficent
A wonderful example of character or costume makeup, Maleficent only needs a light application of makeup, but the final effect is stunning!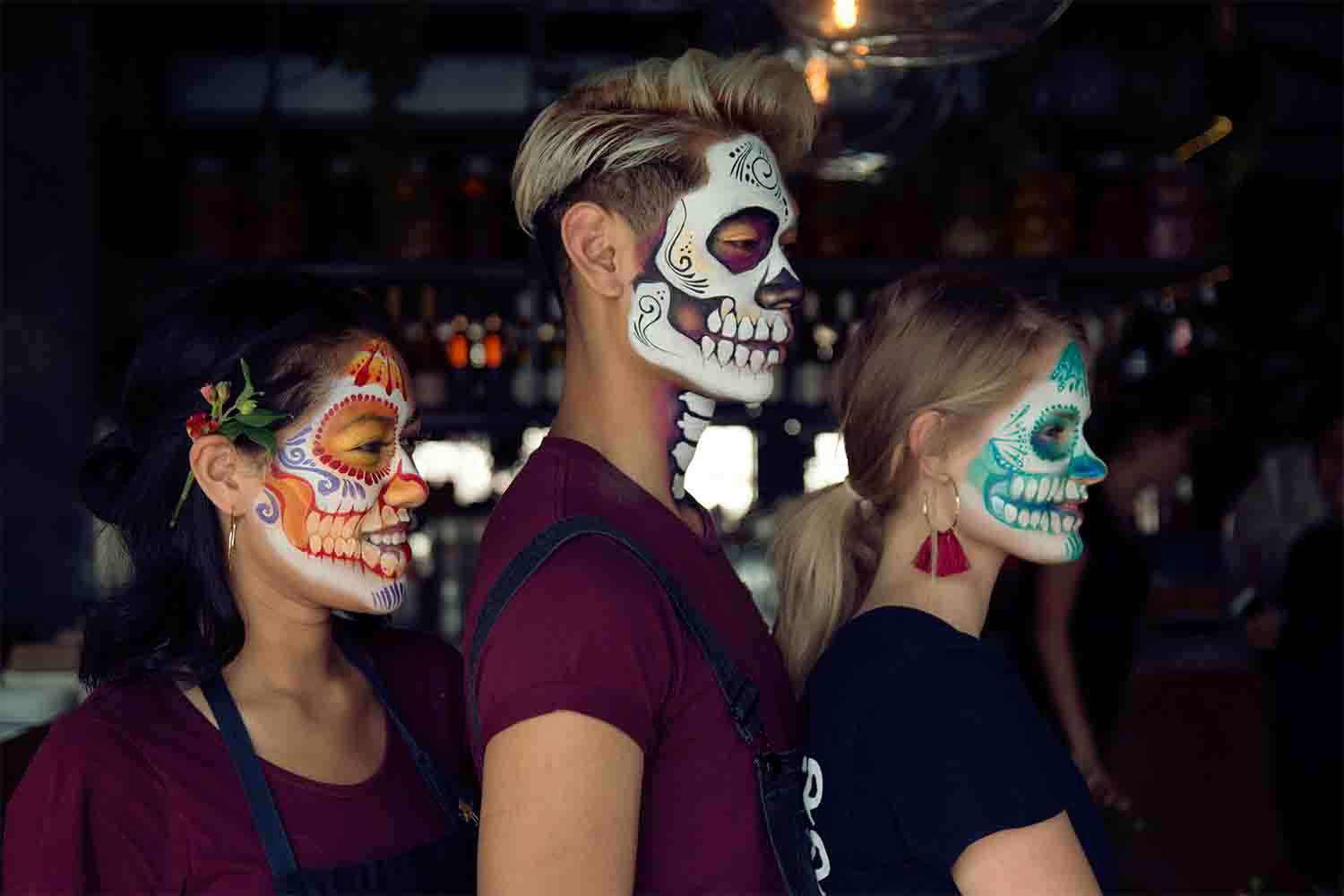 4. Sugar Skull Makeup
Traditionally used to celebrate the Day of the Dead on the 1st and 2nd of November, it's the perfect choice for Halloween! Make sure you check out our article on sugar skull makeup for some great pictures!
5.Cruella De Ville

If she doesn't scare you, no evil thing will! Cruella is one of Disney's most well-loved villains. As conniving as she is stylish. The costume is enough, but challenge yourself with this gorgeous recreation of Cruella De Ville. 
6. Harley Quinn & Joker

#couplegoals get your man excited about dressing up by dressing up as DC's most dysfunctional couple.
7. The Conjuring
A timeless classic, while the veil is enough we challenge you to get the black and white paint out and give the scary nun face ago!
8. Chucky
So easy! Trust me, draw using an eyeliner pencil where all the cuts are, draw on your stitches and use Red, purples and black eyeshadows to add the bruising. Grab a wig and you're looking frightful!
9. Jack And Sally 
Another one to get hubby involved, couple dress ups are a great way to find your husband at any events!
10. Cheshire Cat
All you need is a big old smile! Paint it on yourself, just remember to use a straw!
We'd love to provide our Halloween face painting service for you this year! Book now to secure your spot!
Boo to you from our Crew!
Follow Us On Our Socials For Inspiration